Run the Jewels Share the Playlists That Power Them Through Tough Times
This article originally appeared in the December 2020 issue of Men's Health.
JAIME MELINE and MICHAEL RENDER, a.k.a, El-P and Killer Mike, hip-hop powerhouse Run the Jewels, released their latest, RTJ4, two days earlier than planned—a decision fueled by the urge to address racial injustice protests.
The album felt like the unofficial soundtrack to a year of tumult, pain, and the need to do something.
Yet, for both artists, the music they listened to struck counter to their protest songs.

El-P's 2020 Year in Music
I found myself drifting toward music that wasn't vocal, that was more about being able to meditate. I don't know how to "meditate." The only way I can meditate is to listen to something that can put me in a zone.
I fall back on staples. One that has really helped me is this piece of music by Cliff Martinez—the score he did for the remake of the movie Solaris. In my mind it's one of the greatest film scores ever made.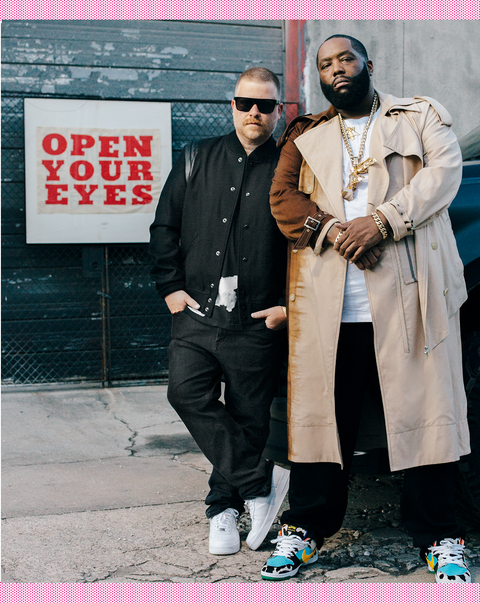 I've been listening to a lot of Philip Glass' Koyaanisqatsi too—shit that helps me detach a little bit and get into my own feelings.
It's not about relaxing for me. It's not that I need to not be where I am. They're not records that ignore sadness. They address what's going on with you.
I can't live in escapism during times like this. I have to be able to acknowledge the undertones of the shit I'm feeling.
I wouldn't wish a pandemic on any fucking society, but if you're going to be in one, you might as well listen to some jams.
Killer Mike's 2020 Year in Music
When I think about my grandparents and what The Depression must have been and what they went through, I found myself listening to a lot of Muddy Waters and Buddy Guy.
My wife has been listening to this ocean music to go to sleep and it's just been calming as shit. I've been waking up more refreshed and it's like "whooo!"
I'm not happy. I'm not not happy. I'm happy because I get the chance to see my friends and family, but I find myself joy-filled.
The music I've been listening to is very joyous—what Black people call praise music.
My wife just played Shirley Caesar out of nowhere the other day and it reminded me of the tent revivals my grandmother used to take me to. So I've been having a joy-filled heart so I've been listening to a lot of what might be considered gospel, dare I say, from the old-school.
I found these speakers at Best Buy (shoutout to little sister Smiley) they were like 60 bucks a piece. I bought like 10 of them and spread them all throughout the house.
Now when my wife cooks at home she attaches her phone to it. So we'll be listening to, while she's making lasagna, Anita Baker. Or if she's doing salad, Sade.
It creates an atmosphere and it makes us tell stories. What was your aunt doing then? Or what was your mom doing then? It's caused a greater connectivity in our family.
When thinking about my grandmother, getting to play a run of BB King puts her in the room with us. When I get to talking about my momma, we play a run of Rick James, it puts her in the room with us.
I have not had family like this with my actual family in nine or 10 years. The records and conversation have meant the most.
Source: Read Full Article