AAD Announces Diversity Initiatives
The American Academy of Dermatology has announced a 3-year, multifaceted initiative to improve diversity, equity, and inclusion not only within the academy itself, but also in the profession of dermatology overall.
"Last year's events surrounding social justice issues and the disproportionate impact of COVID-19 on minority communities underscored an urgent need for the academy to outline a strategy to address gaps in diversity, equity, and inclusion across the academy's programs, provide better access to dermatologic care, and expand the pipeline for prospective dermatologists," according to an AAD statement introducing the plan.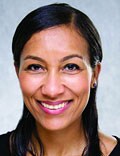 Dr Kanya Ferguson
"The AAD has long recognized the importance of fostering diversity in the dermatology specialty and increasing dermatologic services to underserved populations as a key strategic goal," Kanya Ferguson, MD, chair of the AAD's diversity committee, said in an interview.
"The importance and urgency of furthering these goals have been underscored by the social justice events of 2020 and the disproportionate impact that COVID-19 has had, specifically on Black and Latino communities," added Dr. Ferguson, of the department of dermatology, at the University of Iowa, Iowa City. "The 3-year plan comprehensively expands current diversity, equity, and inclusion initiatives in an effort to accelerate the Academy's progress toward its strategic goals."
"Numerous barriers persist that contribute to the narrowing pipeline in medicine and ultimately in dermatology," Dr. Ferguson noted. "The AAD's diversity, equity, and inclusion initiatives, toolkits, and resources aim to address some of these barriers through early exposure, pipeline programming, and mentorship."
As for the next steps, "the diversity committee will be working hard over the next few years to coordinate the integration and adoption of initiatives throughout the Academy's activities," she added. "This work will take a significant amount of collaboration and the committee is excited to move this forward in a meaningful and sustainable way."
The AAD's diversity committee headed the development of the plan, unanimously approved by the AAD's board of directors, which outlines four key goals for the next 3 years, presented in the Diversity in Dermatology plan as follows:
"Promote and facilitate diversity, equity, and inclusion within the AAD." Steps toward this goal include facilitating diverse representation on AAD committees, councils, and task forces, increasing representation of skin of color session speakers and lecture topics at Academy meetings, and ensuring equity in the selection process for awards including the Leadership Forum, Academic Dermatology Leadership Program, Advanced Leadership Forum, Journal of the AAD Editorial Mentorship Program, and other leadership activities.
"Ensure dermatologic education and research encompasses health disparities and skin of color, and advocate for Black and Latino patient representation in research." Steps toward this goal include increasing use of images reflecting the full spectrum of skin types, ensuring that skin of color populations receive information about dermatologic diseases, and supporting underrepresented minority (URM) dermatology physician scientists in leadership and professional development.

"Expand Academy's Advocacy Priorities to prioritize addressing health inequities." Steps toward this goal include prioritizing issues that affect minority and marginalized populations, establishing relationships with relevant congressional leadership, and advocating for patient support groups for diseases that disproportionately impact skin of color patients.

"Increase the number of practicing dermatologists who are underrepresented minorities and provide leadership and professional development programming." Steps toward this goal include expanding AAD membership to include physician scientists, expanding diversity champion programs, expanding outreach to URM college students in STEM majors, and launching an AAD Summer Diversity & Inclusion camp for younger students to promote interest in a medical career.
The AAD diversity committee also has assembled a toolkit of resources designed to help its members learn how to talk about race, be an effective ally, and achieve cultural competency. Additional updated resources include guidelines on mentorship and outreach.
This article originally appeared on MDedge.com, part of the Medscape Professional Network.
Source: Read Full Article