The UK's Biggest Gym Chain Shared Photos of What it Will Look Like When it Reopens After COVID-19
PureGym, the UK's biggest gym chain with over one million members, has revealed images of what their gyms will look like when they reopen, and it may provide a model for US gyms to follow.
You can see that the days where benches are strewn everywhere and equipment lies discarded on the floor are gone. Instead, PureGym has drawn boxes around its benches and floor space to encourage gym goers to keep them where they are and to ensure the people who will be using them are at a safe distance away from each other.
In the group class space, more boxes on the floor delineate where gym-goers can safely work out, while the gym has also put up signs that remind people to keep their distance, wash their hands and clean down kit.
"PureGym has been working in close consultation with UK Active and the Government to layout re-opening protocols, which will ensure we create a safe place to work and a safe place to work out when we re-open our doors.
"We will provide highly sanitized facilities for the safety of our members and staff through enhanced cleaning and disinfection regimes. Our equipment will be spread out and user numbers will be monitored and limited to ensure safe distances are maintained. Our new safety protocols are already in place in Switzerland, where we have re-opened gyms, and we've received approval from local authorities and positive feedback from our members," a spokesperson for PureGym told Men's Health UK.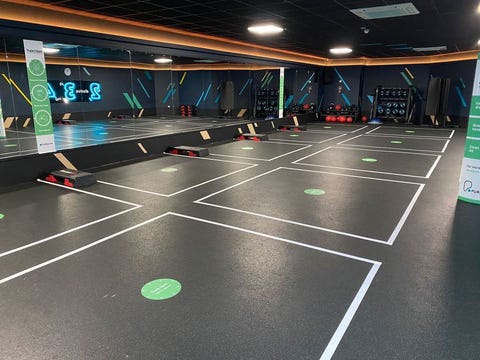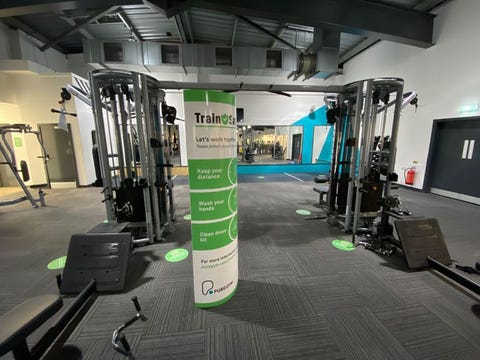 "We recognize the positive role PureGym can play in supporting the health of the nation and our members' desire to build gym workouts back into their lifestyles and look forward to welcoming our members back soon."
In addition to those measures, PureGym have also revealed to Men's Health that they will:
From: Men's Health UK
Source: Read Full Article