Meet the 90-Year-Old Runner Who Still Hits the Track Five Days a Week
Joe Handelman doesn't like to miss his daily run. It's only 30 minutes or so. Sometimes more, sometimes less. But for the 90-year-old from Cross River, New York, it's his way of getting out and staying active, especially after suffering a massive stroke a decade ago.
Handelman has enjoyed the sport since the 1940s, when he ran cross country and track in high school. He went on to run collegiately at Princeton, where he was teammates with the late Lou Jones, who'd later win gold at the 1956 Olympics in the 4×400-meter men's relay team. In one 400-meter race, Handelman even beat Jones.
But 15 years away from running led to him being 50 pounds overweight, so he started jogging again in the 1960s—and he hasn't stopped since. He has raced everything from 5Ks to attempting a 50K once, trying to enjoy all of the miles he can.
"Speed, competition, and meeting people were the three reasons I ran," Handelman told Runner's World. "Meeting people was the most important for me because of all the friends I've made."
For decades, Handelman enjoyed his speed, but his age and a few health problems, including his stroke, limit his mobility these days. Initially after the stroke, Handelman said he was depressed and stayed away from his running friends and attending races. It wasn't until his eldest son, Cary, began running his his mid-50s and helped get Handelman back into the sport for enjoyment.
Though he can't race anymore, because he uses a walker to get around, he still tries to get out and meet people while he's outside and enjoying life.
When the weather is good and the local track is clean, Handelman takes his walker to the track for 30 to 40 minutes alongside his health aide, Nell Singh. He often can at least get a lap or two in, while onlookers cheer him on.
"People come up and compliment him and tell him he is a motivation, he's a hero," Singh told Runner's World. "We even went to a physical therapist a few months back because he was losing his balance and had lost the use of one of his eyes when he accidentally fell on the corner of a television. He was sad because he couldn't go walking, and it was tough to get him back out on the track. When we finally went back, you could see the difference. Exercise for him is life."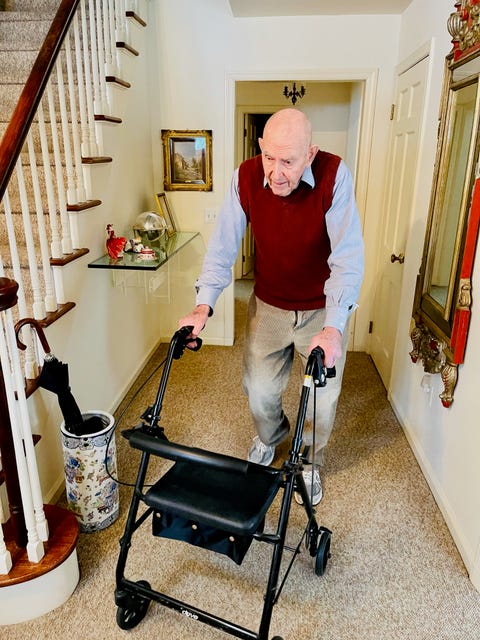 During the winter, when snow might pile up or the track is closed, many people often look for ways out of their runs, and rightfully so. In that case, let Handelman be your inspiration to get out the door. In the winter, he throws on his warm clothes and still gets out there. And when the track is closed or snow-covered, he takes laps around his home.
But whether he is on the track or in his home, he says running is what keeps him going. Just like the days when he'd move fast around town or in races, he says his mind still drifts to a calm, meditative state where he can think clearly while he's moving.
And he has a lot to think about. He still works—though not in an office recently because of the pandemic—he's an active member member of the Friends of Princeton Track, and he can still meet new people, even if it is a little different these days with the pandemic.
People, including Singh, see him as a hero. His physical therapist once asked Handelman for his autograph on a copy of an article from the local paper, which she gave to her son who's a runner.
Handelman does appreciate the fact that he inspires people to be active and acts as an example, and he plans to just keep moving as long as he can.
"At this point in my life I am running, well, walking, to stay alive," he said. "I plan to run until I die."
Source: Read Full Article