CrossFit Champ Mat Fraser Shared the Changes That Made Him the Fittest Man on Earth
Unless you've been training under a rock for the past half-decade, you know who Mat Fraser is. You'll know that he's a triple CrossFit games champ. You'll know how he has disrupted "the sport of fitness". You'll know that he's the world's best.
Fraser's trajectory since the 2016 games — where he got his first-ever gold medal — has, quite simply, been astronomical, with thousands of YouTube videos, Tweets and Instagrams focused on Fraser pulverizing his peers on the competition floor. It's a particular set of skills that has earned him the title of 'The Fittest Man on Earth'. It's one that, at face value, is a little hard to justify, but Fraser is likely to be the closest athlete there is to this accolade. Very few disagree.
However, it's not always been this way. California's 2015 CrossFit games saw a 26-year-old Fraser clinch a podium finish in a not-so-insignificant second place, finishing behind another fitness deity and close rival Rich Froning. It was a finish that, perhaps obviously, would be etched into Fraser's mind forever. Just for all the wrong reasons.
"For a long time, I hated that medal. It kept me up at night. It was a source of disappointment"
"I hated my 2015 medal, you know, I got second place. And that second place to me just represented the cut corners, the slacking off, the thinking that I could out-train a bad diet. Simple stuff like that," Fraser admitted in a recent interview with ESPN, ahead of the CrossFit Games 2019.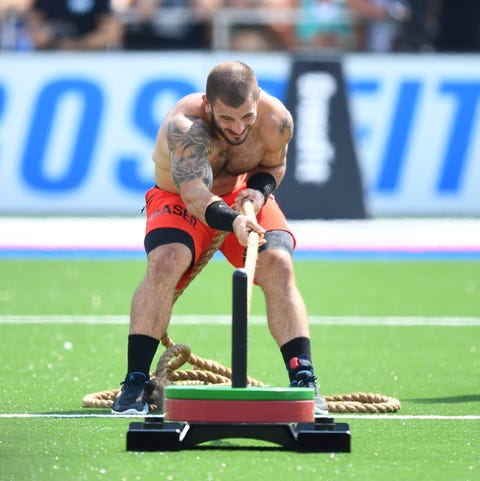 Mat Fraser during Two-Stroke Pull at CrossFit Games 2018

Thomas Campitelli
"If I had won in 2015 while carrying those bad habits, I would of kept those bad habits. I would have thought 'I can do this while eating terribly. I can do this while training sporadically', but now I realize, with three years in a row of breaking my own record of margin of victory, that would have never of happened without that incredibly disappointing loss."
"For a long time, I hated that medal. It kept me up at night. It was a source of disappointment. Now, I wouldn't trade that medal for anything."
It's clear that Fraser's work ethic — which feeds into his training motto 'Hard Work Pays Off', or #HWPO — is, at this point, unrivaled. There is, he admits, some frustration over how people perceive his approach to the Games and, at a wider level, his fitness.
"It's frustrating to hear how some people perceive it, [saying] 'you just show up and win'," said Fraser to ESPN. "They don't see the behind-the-scenes, how much goes into it, how dedicated my day-to-day is. My life revolves around it."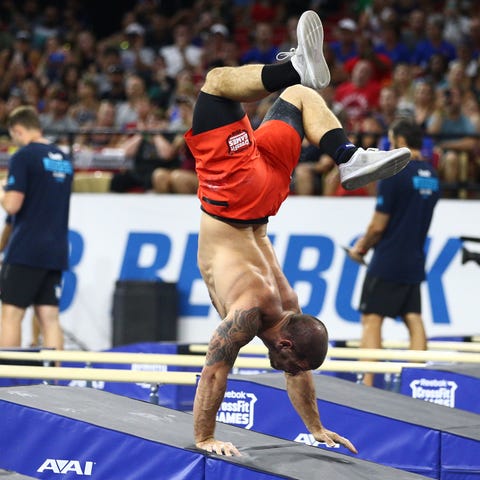 Mat Fraser during Handstand Walk at CrossFit Games 2018

Daniel A. Anderson
These days, Fraser's approach to elite-level fitness is totally habitual, giving himself "100 points of energy" to use during the day, a precious allocation of time and resources that doesn't see him get involved with the smaller stuff, such as counting macros (this is what he eats every day), choosing outfits or cooking. "If I'm worried about what I'm eating, that's going to cost me 20 points," Fraser said.
What's more, it totally works — and his numbers are off the chart — boasting a 226kg deadlift, 219kg back squat and 142kg snatch. Those numbers won't last long, however, as athletes usually hit a new 1RM when faced with the pressure of competition at the CrossFit games. When upwards of $300,000, your mental strength and a looming threat of not finishing first is on the line, you give it your all. Because #HWPO.
From: Men's Health UK
Source: Read Full Article